Paoli High School
Class Of 1962
In Memory
Wendell Newlin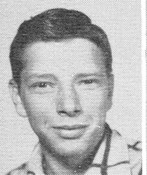 R. Wendell Newlin
April 12, 1941 - Dec 17, 2003
Wendell Newlin, 62, of West Baden Springs died at 3 p.m. Wednesday at his residence.
He was a retire foreman pipefitter for Morrison Pipeline in Chicago, Ill.
Survivors include his companion, Sandy Woolston of West Baden Springs; one daughter, Cathy Mink of West Baden Springs; four grandchildren; one great-granddaughter; two sisters, Ellen Beaty of West Baden Springs and Bernice Fidler of Paoli; and one brother, Raymond Newlin of Bedford.
The body was cremated and there will be no services. Arrangements are under the direction of McAdams Mortuary of Paoli.