Paoli High School
Class Of 1962
In Memory
Ermal Patton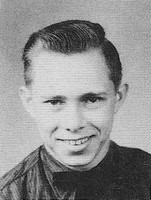 Ermal E. Patton
Funeral services were conducted Feb 23, 2013 at 1 p.m. at McAdams Mortuary in Paoli for Ermal E. Patton, 71, Paoli, who died Feb. 18 at IU Health Paoli Hospital.
Born September 30, 1941, he was the son of Joseph Everett and Joyce Faith Wells Patton.
He had worked at Carpenter Body Works, formerly of Mitchell, and retired from Jasper Engines. He was of the Christian Faith. He served in the Navy during the Cuban Missile Crisis.
Survivors include one son, Michael Patton of Paoli; one daughter, Janet Patton of Paoli; three sisters, Vickie Kirkman of Edgewater, FL, and Bonnie Dickey and Sherry Phillips, both of Paoli; one brother, Armel Patton of Orleans; and several nieces and nephews.
He was preceded in death by one sister, Janet Morris.
Officiating the service was Brother Agan. Burial was at Concord Cemetery, with American Legion Warren Brock Post 69 providing military rites.