Paoli High School
Class Of 1962
In Memory
Donnie Poe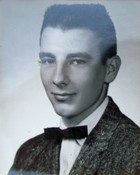 Donald M. Poe
Feb 14, 1943 – Sept 8, 2011
Funeral services will be determined by the family for Donald M. Poe, 68, Palmetto, Fl., who died Sept. 8 at Manatee Memorial Hospital in Bradenton, Fl.
Born Feb. 14, 1943, he was the son of Kenneth Carney Poe and Myrtle Poe. He married Joyce Poe, and she preceded him in death.
He was retired from Tropicana Juice Company. He was a 1962 graduate of Paoli High School and a veteran of the U.S. Air Force.
Survivors include two sons, Stacey and Scott Poe; one daughter, Shawn Poe; and two sisters, Dorris Mason of Taswell and Shirley Terry of Orleans.
He was preceded in death by his parents, Kenneth Carney Poe and Myrtle Poe; and his wife, Joyce Poe.