Paoli High School
Class Of 1962
In Memory
Ralph Walker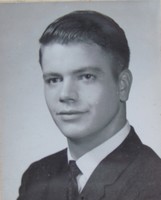 Ralph Dale Walker
January 8, 1944 - September 29, 2012
Ralph Dale Walker age 68 of Marengo, Indiana, died at 8;30 A.M., on Saturday, September 29, 2012 at Green Valley Care Center in New Albany, Indiana.
He was born January 8, 1944 in Orange County Indiana to Carmen and Francis (Crecelius) Walker, who preceded him in death.
He was a graduate of Paoli High School and Purdue University. Ralph was a retired surveyor for the State of Indiana and a member of Crossroads Church of Christ.
Survivors included a son, Warren and wife Jill Walker of Milltown, Indiana, two grandchildren, three great grandchildren, two Brothers, Bill Walker of Depaw, Indiana and Russell Walker of New Albany, Indiana, and several nieces and nephews.

Funeral services will be held Wednesday October 3, 2012 1:00 P.M. at Dillman -Green Funeral Home officiated by Brother Denny Moon. Burial will be at Union Chapel Cemetery