Paoli High School
Class Of 1962
In Memory
Jerry Walls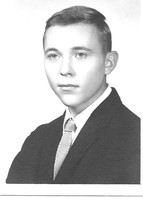 Jerold Lee Walls
A private memorial service will be held at a later date for Jerold Lee Walls, 66, Columbia, SC, who died June 13, 2011.
Born Sept. 18, 1944, he was the son of Walter Lee and Evelyn Lucille Gasaway Walls.
Survivors include his mother, Evelyn Lucille Gasaway Walls of Paoli; wife, Carroll Ann Walls-Goodpaster of Columbia, SC; three daughters, Michelle Baeiszadeh of Terre Haute, Julie Ann Bormann of Fort Wayne and Allison McKenna of Paoli; one stepson, David Goodpaster of Bloomington; several grandchildren; one sister, Lila Jean Tucker of Paoli; and many other family members and friends.
He was preceded in death by his father, Walter Lee Walls, and two brothers, Stephen and Robert Walls.
In lieu of flowers, memorials may be made to Harry Hampton Wildlife Fund, www.hamptonwildlifefund.org, or Freedom and Hope Foundation, www.freedomandhopefoundation.com. Caughman-Harman Funeral Home, Lexington Chapel, is in charge of arrangements.
Courtesy of Paoli News Republican