Paoli High School
Class Of 1962
In Memory
Betty Puckett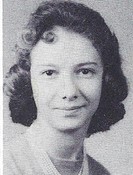 Bettie Jo (Puckett) Harvey
December 2, 1945 – July 5, 1992
WESTFIELD – Bettie Jo Harvey, 46, Westfield, died Sunday at Community Hospital North
Born in Washington County, she was the daughter of Douglas and Frances (Burd) Puckett.
She was a keypunch operator and retired from Indiana Farmers Insurance after 15 years in 1990. She was a member of Colonial Hills Baptist Church.
Survivors include one son: Tony Harvey; two stepsons: Greg Harvey and Doug Harvey; two stepdaughters: Karen Meeks and Patty Courtney; five brothers: David Puckett, Carl Puckett, Gail Puckett, Terry Puckett and Mitchell Puckett, and one grandchild.
Services will be at 11 a.m. Wednesday at Colonial Hills Baptist Church. Burial will be in Union Chapel Cemetery.
Friends may call from 3-9 p.m. today at Shirley Brothers Co. Inc. Funeral Home in Indianapolis.